Uragold Raw Quartz Assays As High As 4N Purity (99.99% SiO2) Prior To Commencement Of Testing
Montreal, Quebec, Canada / TheNewswire / March 3, 2016 - Uragold (TSX Venture: UBR) is pleased to announce that pre-testing analysis of its Raw Quartz material has yielded purity levels as high as 4N (99.99%) SiO2.
Bernard Tourillon, Chairman and CEO Of Uragold Stated: "Using these new results, Theoretical modeling of PyroGenesis PUREVAP™ Quartz Vaporization Reactor (QVR) process seem to indicate that transforming Raw Quartz into High Purity Silicon metals with a minimum purity of 4N (99.99 %) is within reach and with anticipated process improvements further testing could achieve purity of 5N (99.999 %) and even further to 6N (99.9999 %)".
The Raw Quartz material was taken from Uragold's 100% Owned Martinville property, located in the Eastern Townships region of Quebec.  The analysis completed at the INRS - ETE (Institut National de la Recherche Scientifique, Eau Terre Environnement) laboratory in Quebec City were required for theoretical modeling purposes of PyroGenesis PUREVAP™ QVR process.
Martinville Raw Quartz Results Indicate That Even Before Any Benefaction The Material Meets Industry Standards For Ultra High Purity Quartz.
Ultra High Purity Quartz has become one of today's key strategic minerals with applications in pharmaceutical and high-tech industries, semiconductors, telecommunication, optics, microelectronics, and solar applications.
The price of Ultra High Purity Quartz can range from $US 300 (SiO2 99.95 % or 3N + Purity) -
> $US 5,000 per ton (SiO2 99.997 % or 4N + Purity)1 due to the importance of this mineral to almost every industry in the world.
Bernard Tourillon Further Stated "Reaching 4N (99.99 +%) SiO2 Purity without any benefaction is outstanding and confirms the exceptional quality of the Martinville Quartz. The Ultra High Purity of our raw quartz will allow Uragold to develop both its Solar Grade Si business and its Ultra High Purity Quartz business, therefore reducing its technology risk while increasing its potential revenues steams.
Total Impurities Count < 100 Ppm Measured In Martinville Raw Quartz Assay Results
The analytical data measured in the INRS - ETE laboratory confirms the presence of very pure silica (SiO2) with very low total concentration in all the major contaminants, around the 100 ppm threshold, for the Martinville property.  Total contaminant concentration (ppm) was calculated by summing the following elements (Ti, Fe, Mn, Mg, Ca, Na, K, P, Cr, Ba, Sr, Cu).
2016 MARTINVILLE TOTAL IMPURITIES GRAPH: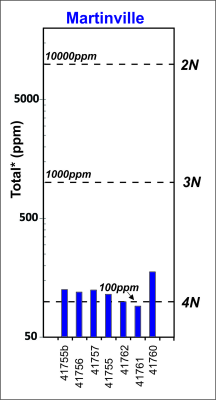 Click Image To View Full Size
Figure 1:        Total concentration of contaminants (ppm) from the Martinville Property silica samples are closely ranged above and below the 4N grade on the right. 4N Purity implies impurities concentration in the material are 100 ppm or less.  (INRS Data).
2016 MARTINVILLE TABLE OF RESULTS: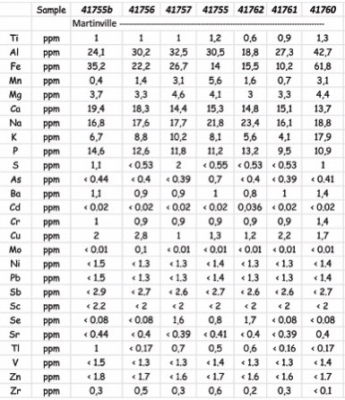 Click Image To View Full Size
This table represents the analytical data measured by the INRS laboratory.
The Martinville Property:
The total exploration area of the Martinville deposit is 2.42 Km2.  The deposit consists of hydrothermal quartz veins encased in schist's.
In 1995, a geophysical survey resulted in an exploration potential estimated at over 1,000,000 tons of SiO2 using the 200 m surface length of the quartz vein, with an average width of between 2 m and 23 m and assuming a continuation up to 30 M of depth.  (GM53696: Pierre Vincent, Constellar Geosciences. 1995.).
All the information on exploration potential herewithin presented is historical in nature and while relevant, the information was obtained before the implementation of National Instrument 43-101 and as such does not meet National Instrument 43-101 reporting standards. The historical estimate should not be relied upon until the Company can confirm them.
Testing Methodology:
In order to have a good sampling spread, 7 samples were taken at different zones of the quartz vein outcrop in 2014. The material was sent to the INRS ETE laboratory in Quebec City to be prepared for testing for Silica values. To avoid metal contamination the samples were cleaned using silicon carbide (abrasive) and subsequently pulverized with an agate mortar and pestle. 7 prepared samples were re-tested for major and trace elements by multi acid (HF, HNO3-HCl-HClO4) total digestion, ICP/OES (26 elements). The assay was performed using Atomic emission spectroscopy (Varian, axial Vista).
Marc Richer-Laflèche PhD, P. Geo, is a qualified person as defined by National Instrument 43-101 and has reviewed and approved the analytical contents of this press release.
About Uragold
Uragold, with its worldwide exclusive usage of PyroGenesis' PUREVAP™ QVR, is endeavouring to become a vertically integrated High Purity Silicon Metal (99.99% Si), Solar Grade Silicon Metal (6N Purity / 99.9999% Si) and/or Higher (9N Purity / 99.9999999% Si) producer.
The PUREVAP™ QVR process's big advantage is its one step direct transformation of Quartz into High Purity Silicon Metal (99.99% Si), Solar Grade Silicon Metal (6N Purity / 99.9999% Si) and/or Higher (9N Purity / 99.9999999% Si) producer, thereby potentially allowing Uragold to manufacture high value material for the same operating cost presently being paid by traditional producers to make Metallurgical Grade Si (98.5% Si) using the traditional arc furnace approach.
The science behind PyroGenesis PUREVAP™ QVR process is solid:
••Plasma arc based process can and has transformed High Purity Quartz into Mg Si. 

••Plasma arc based process can and is being used to purify Mg Si into higher value materials such as Sg Si. 

••Finally, refining Mg Si using an electron-beam furnace in a high vacuum-processing environment has proven the concept of the elimination of elements whose vapor pressures are higher than that of silicon. 
What is unique and ground breaking is the combination of these three proven processes into one step.
Uragold is also the largest holder of High Purity Quartz properties in Quebec, with over 3,500 Ha under claims.  Despite the abundance of quartz, very few deposits are suitable for high purity applications.  High Purity Quartz supplies are tightening, prices are rising, and exponential growth is forecast.  Quartz from the Roncevaux property successfully passed rigorous testing protocols of a major silicon metal producer confirming that our material is highly suited for their silicon metal production.
This press release contains certain forward-looking statements, including, without limitation, statements containing the words "may", "plan", "will", "estimate", "continue", "anticipate", "intend", "expect", "in the process" and other similar expressions which constitute "forward-looking information" within the meaning of applicable securities laws. Forward-looking statements reflect the Company's current expectation and assumptions, and are subject to a number of risks and uncertainties that could cause actual results to differ materially from those anticipated. These forward-looking statements involve risks and uncertainties including, but not limited to, our expectations regarding the acceptance of our products by the market, our strategy to develop new products and enhance the capabilities of existing products, our strategy with respect to research and development, the impact of competitive products and pricing, new product development, and uncertainties related to the regulatory approval process. Such statements reflect the current views of the Company with respect to future events and are subject to certain risks and uncertainties and other risks detailed from time-to-time in the Company's on-going filings with the securities regulatory authorities, which filings can be found at www.sedar.com. Actual results, events, and performance may differ materially. Readers are cautioned not to place undue reliance on these forward-looking statements. The Company undertakes no obligation to publicly update or revise any forward-looking statements either as a result of new information, future events or otherwise, except as required by applicable securities laws.
Neither the TSX Venture Exchange nor its Regulation Services Provider (as that term is defined in the policies of the TSX Venture Exchange) accepts responsibility for the adequacy or accuracy of this release.
For further information contact
Bernard J. Tourillon, Chairman and CEO Tel (514) 907-1011
Patrick Levasseur, President and COO Tel: (514) 262-9239
www.uragold.com
1 Source Richard Flock, Industrial Minerals December 2013
Copyright (c) 2016 TheNewswire - All rights reserved.