Quebec Copper & Gold Hires Windfall Geotek for AI Services on Opemiska Project & Purchases Neighbouring Chapais Asset from Windfall Geotek
DOES NOT CONSTITUTE AN OFFER OF THE SECURITIES DESCRIBED HEREIN
Brossard, Quebec - TheNewswire - March 6th, 2023 – Windfall Geotek (TSXV:WIN), (OTC:WINKF), (FSE:L7C2) a leader in the use of Artificial Intelligence (AI) with advanced knowledge-extraction techniques since 2005 in the mining sector is pleased to announced Quebec Copper & Gold (TSX-V: QCCU) has hired Windfall Geotek for Artificial Intelligence Targeting Services on it's Opemiska Copper & Gold Project. In addition to the service contract Quebec Copper & Gold has entered into a purchase sale agreement with Windfall Geotek to purchase Windfall Geotek's neighbouring Chapais Property for 500,000 shares & issuing a 2% NSR subject to a 1% buyback. The Chapais project will increase the size of Quebec Copper & Gold's Opemiska Project. Windfall Geotek will take all available data and conduct a large-scale AI targeting project over both Opemiska & Chapais Project's which will be then owned by Quebec Copper & Gold. The deal is subject to exchange approval and expected to be closed within the near future.
Dinesh Kandanchatha, Chairman of Windfall Geotek commented: "We are excited to partner with the team at Quebec Copper & Gold. Windfall Geotek intends on playing a key part through our AI to help the project succeed."
Highlights of the Chapais Property:
Large property consisting of 36 claims and 1,560 hectares located 490 km northwest of Montreal. Road accessible with power grid access 

Windfall Geotek AI system has generated significant targets for gold, copper and zinc across the entire land package that are road accessible and have grid power access
 
Location, Access and Infrastructure of the Chapais Property:
The Windfall Geotek's Chapais Property is located 490 km northwest of Montreal, 2 km west of the town of Chapais and 40 km southwest of Chibougamau in northern Quebec (NTS map sheet 32G/15). Coordinates for the center of the Project site are latitude 49˚ 48' 16'' N and longitude -74˚ 54' 37'' W (506480mE, 5516890mN) at an elevation of 332 m.  

Property is comprised of 36 claims, covering over 1,560.18 hectares of surface area. 

Direct road access to the Chapais Property is via route 113 to provide access to the deposits. Route 113 is a paved regional highway that is part of the Trans-Canada Highway. The road begins 2.5 km south of the town of Chapais. The access road is currently used for diamond drill and personnel access to the site all year around. A series of ATV trails also provide access to the property.  

Access to the provincial electrical transmission grid is available along Route 113 near the town of Chapais that runs through the Chapais Property Land Claims 
Nathan Tribble P.Geo, Director commented: "The Chapais Property is well situated in a prolific region that has produced over 1 billion pounds of copper and 1 million ounces of gold. It's exciting to see the large AI generated targets within favorable rock types that were host to the historic Perry and Springer mines adjacent to our land package. During this new supercycle of electrification metals this is a fabulous project that should gain a lot of attention here in short order."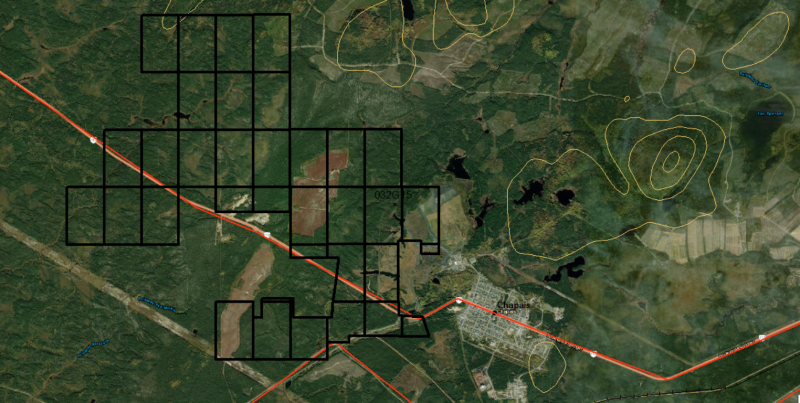 Click Image To View Full Size
Figure 1. Satellite Imagery of Chapais Property Land Claims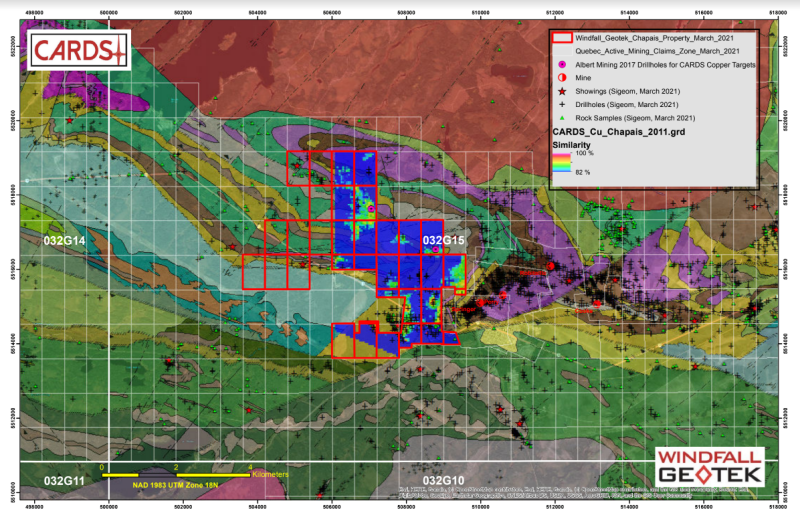 Click Image To View Full Size
Figure 2: Windfall Geotek Chapais AI Copper Targets Map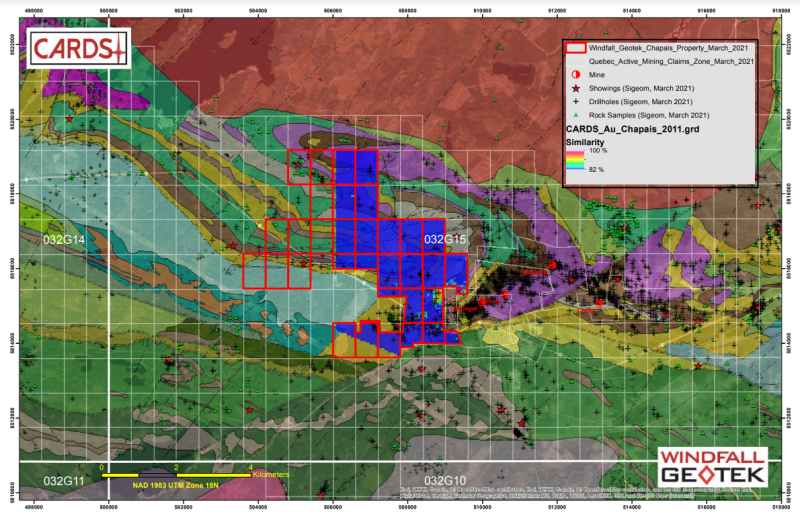 Click Image To View Full Size
Figure 3: Windfall Geotek Chapais AI Gold Targets Map
The scientific and technical data contained in this press release was reviewed and prepared under the supervision of Grigor Heba, Ph.D., P.Geo., Principal Geologist and a Qualified Person as defined by National Instrument 43-101.

About Windfall Geotek – Powered by Artificial Intelligence (AI) since 2005
Windfall is an Artificial Intelligence company that has been in business for over 15 years developing its proprietary CARDS analysis (AI) and data mining techniques. Windfall Geotek can count on a multidisciplinary team that includes professionals in geophysics, geology, Artificial Intelligence, and mathematics. It combines available public and private datasets including geophysical, drill hole and surface data. The algorithms designed and employed by Windfall are calculated to highlight areas of interest that have the potential to be geologically similar to other gold deposits and mineralization. The Company's objective is to develop a new royalty stream by significantly enhancing and participating in the exploration success rate of mining and to continue the Land Mine detection application as a high priority. Windfall has played a part in numerous past discoveries utilizing its methodology as described at: https://windfallgeotek.com/.
For further information, please contact:
Simran Kamboj
President and CTO of Windfall Geotek
Email: info@windfallgeotek.com
Website: www.windfallgeotek.com
Phone: 1-855-946-5145
Additional information about the Company is available under Windfall Geotek's profile on SEDAR at www.sedar.com. Neither the TSX Venture Exchange nor does its Regulation Services Provider (as that term is defined in the policies of the TSX Venture Exchange) accept responsibility for the adequacy or accuracy of this release.
FORWARD-LOOKING STATEMENTS: This news release contains forward-looking statements, which relate to future events or future performance and reflect management's current expectations and assumptions. Such forward-looking statements reflect management's current beliefs and are based on assumptions made by and using information currently available to the Company. Investors are cautioned that these forward-looking statements are neither promises nor guarantees, and they are subject to risks and uncertainties that may cause future results to differ materially from those expected. These forward-looking statements are made as of the date hereof and, except as required under applicable securities legislation, the Company does not assume any obligation to update or revise them to reflect new events or circumstances. All forward-looking statements made in this press release are qualified by these cautionary statements and by those made in our filings with SEDAR in Canada (available at WWW.SEDAR.COM).