Tantalex Lithium Resources Files NI 43-101 Mineral Resource Report for the Manono Lithium Tailings Project
Toronto, ON - TheNewswire - January 25, 2023 - Tantalex Lithium Resources Corp. (CSE:TTX) – (FSE:DW8) – (OTC:TTLXF) ("Tantalex" or the "Corporation"), is pleased to report it has filed a technical report titled "NI 43-101 Mineral Resource Report for the Manono Lithium Tailings Project, Manono, Democratic Republic of Congo, with an effective date of December 13th, 2022 (the "Mineral Resource Report").  
The Mineral Resource was estimated using the Canadian Institute of Mining, Metallurgy and Petroleum (CIM) Best Practice Guidelines and is reported in accordance with the 2014 CIM Definition Standards, which have been incorporated by reference into National Instrument 43-101 – Standards of Disclosure for Mineral Projects (NI 43-101),  and may be found at www.tantalexlithium.com or under the Company's profile at www.sedar.com.
The Qualified Person for the Mineral Resource Estimate is Mr. Rui Goncalves (BSc Hons, MSc (Eng.)) who is a geologist with 13 years of experience in base and precious metals exploration, mining geology and Mineral Resource estimation. He is a Senior Mineral Resource Consultant for The MSA Group (an independent consulting company), is registered with the South African Council for Natural Scientific Professions (SACNASP) and is a Member of the Geological Society of South Africa (GSSA). Mr. Goncalves has the appropriate qualification and experience to be considered a "Qualified Person" for the style and type of mineralisation and activity being undertaken as defined in National Instrument 43-101 Standards of Disclosure of Mineral Projects.
A summary of the Mineral Resource estimates per deposit as well as the total Measured, Indicated and Inferred Mineral Resources is shown in Table 1.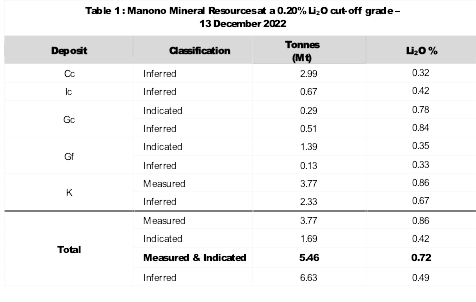 About Tantalex Lithium Resources Corporation
Tantalex Lithium is an exploration and development stage mining company engaged in the acquisition, exploration, development and distribution of lithium, tin, tantalum and other high-tech mineral properties in Africa.
It is currently focused on developing its lithium assets in the prolific Manono area in the Democratic Republic of Congo; The Manono Lithium Tailings Project and the Pegmatite Corridor Exploration Program.
Cautionary Note Regarding Forward Looking Statements
The information in this news release includes certain information and statements about management's view of future events, expectations, plans and prospects that constitute forward looking statements. These statements are based upon assumptions that are subject to significant risks and uncertainties. Because of these risks and uncertainties and as a result of a variety of factors, the actual results, expectations, achievements or performance may differ materially from those anticipated and indicated by these forward looking statements. Although Tantalex believes that the expectations reflected in forward looking statements are reasonable, it can give no assurances that the expectations of any forward looking statements will prove to be correct. Except as required by law, Tantalex disclaims any intention and assumes no obligation to update or revise any forward looking statements to reflect actual results, whether as a result of new information, future events, changes in assumptions, changes in factors affecting such forward looking statements or otherwise.
The Canadian Securities Exchange (CSE) has not reviewed this news release and does not accept responsibility for its adequacy or accuracy.
For more information, please contact:  
Eric Allard
President & CEO
Email: ea@tantalex.ca
Website: www.tantalexlithium.com
Tel: 1-581-996-3007